The 5 R's factory: learn the tools helping groundbreaking social entrepreneurs to change systems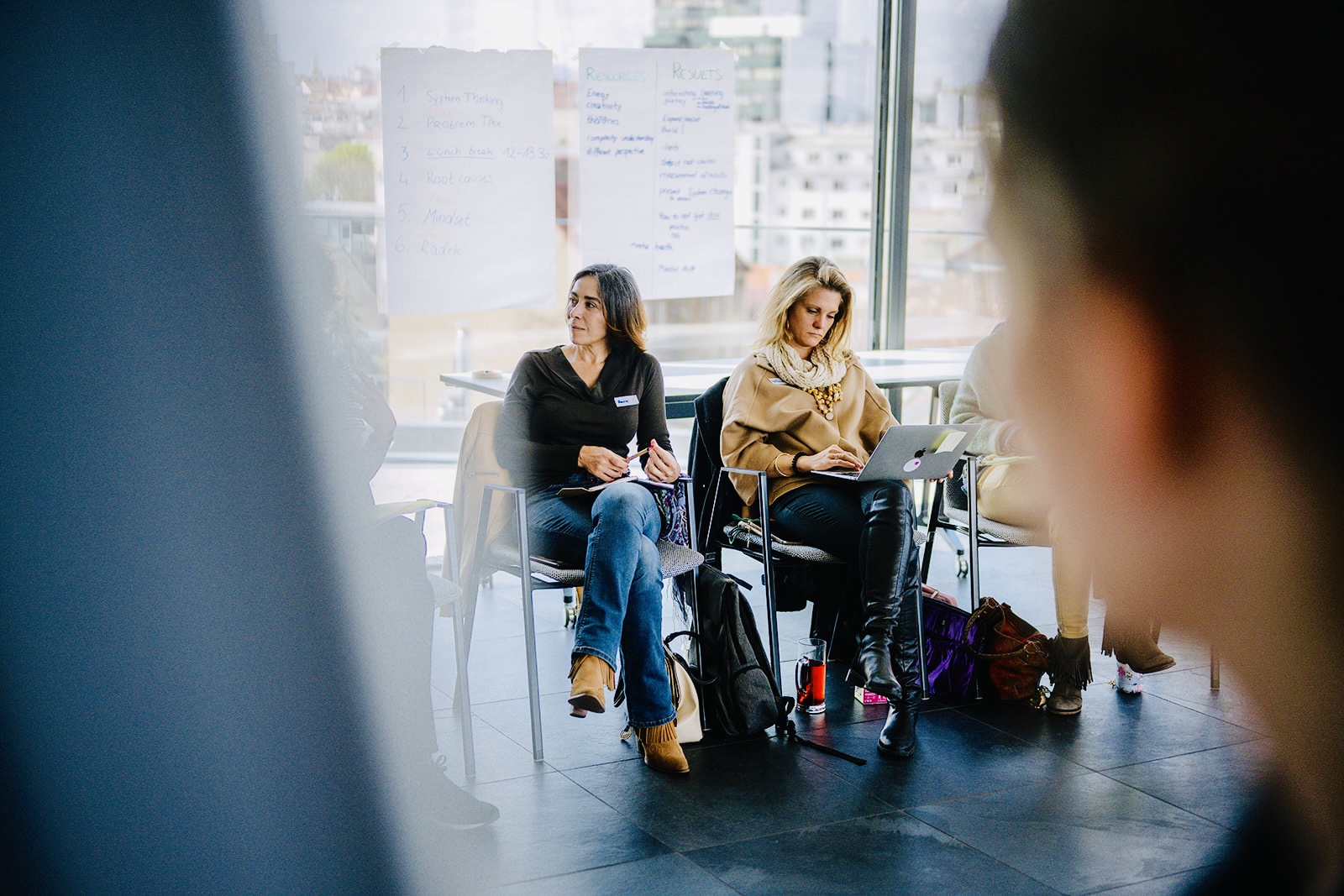 The tools that have helped groundbreaking social entrepreneurs
Have you ever heard of problem tree analysis or the 5R-Framework? The leading changemakers of the Ashoka Visionary Program, the executive leadership program offering a comprehensive 9-month learning journey that covers the life cycle of a social entreprise, have! Cause their last weekend was all about systems change. Some key ideas to help you change systems: 
To tackle problems at their root, organisations can use systems practice: a way of seeing, analyzing, and acting through systems. And it's helpful to work one's way through its four phases: Listening (appreciating the system "as is"), Engaging (selecting/initiating appropriate interventions), Discovering (learning from the effects of interventions) and Adapting (modifying interventions based on discoveries).
There, the 5Rs Framework acts as a helpful guide: it identifies key elements  of a local system that are important for understanding how the system functions and important as leverage points for introducing change. These are the five "Rs": Results, Roles, Relationships, Rules and Resources. 
Together, they capture the basic dynamics of the system and help us identify what we should listen for, where we should engage, what we should discover, and what interventions we may need to adapt. They not only help us to describing systems but also intended system changes in an easy way – reducing complexity. You can read more in this note on this framework developed by USAID.
Learn how Ashoka Fellows have used the framework to describe their intended systems changes
Here are some examples:
In the private banking sector, social capital can be used as a new input that can be used as collateral for loans (Muhammad Yunus, Grameen Bank)
In the domestic sex trafficking logistics system in the US, truckers assume the role of potential witnesses in order to disrupt trafficking networks (Kendis Paris, Truckers against Trafficking).
In the rural water and health management system in Mexico, there is a feedback loop between program designers and local communities (

Fermin Reygadas, Cantaro Azul)

In the global fashion supply chain, there is a flow of information about working conditions from decentralized, home-based production sites to end consumers, via certification intermediaries (Rebecca van Bergen, NEST)
In the value chains around natural resources in the Amazon region, local communities take care of additional steps after harvesting raw materials, leading to stronger incentives to protect forests and a smaller eco footprint of these value chains (Felipe Bannitz, BNI)
In the value chain for educational content for schools, teachers assume the role of content creators (David Cuartielles, abierto)
In the rural off-the-grid energy service systems in Latin America, the new role of maintainers exists (Manuel Wiechers, Ilumexico)
In the retail sector in urban Latin America, public service funds are made available as a resource for small shops that fulfill important social functions (Thomas Ricolfi, Tenoli)
In the viscose supply chain, recycled fabrics and straw are used as inputs, as opposed to trees (Nicole Rycroft, Canopy)
There is a market for low-priced health insurance products in Bangladesh (Saif Rashid, APON) – wow, a new system!
In the value chain for carpets and rugs in India, regulations about piece rate payments are changed to ensure de-facto minimum pay for workers (Manoj Bhatt, GoodWeave)
Are you inspired? Then read on!
Throwback to the module 📸
During the fifth module of the Ashoka Visionary Program, participants engaged in a co-creative learning journey to understand their power in systems change and #leveragepoints they can intervene at. Just like the 300 (!) alumni who joined the executive leadership program from 2015 – to embark on a comprehensive 9-month learning joureny in 7 modules across the life cycle of a social enterprise.
To connect to a community of peers. And to learn from Ashoka Fellows and experts. Like these 👇
🦸🏻‍♂️ Rado Pittner, Partnerships Manager Czech Republic & Slovakia & Expert for systems change, came to Vienna to lead the group through the two days experience.
🦸🏻‍♂️ Radek Hábl, Czech Entrepreneur and Ashoka Fellow, shared his expertise in systemically transform the current unfair ecosystem of debt & how he used media to educate the public about #bankruptcy.
🦸🏻‍♂️ Olga Shirobokova from the Ashoka Globalizer lead a deep dive into the problem tree with us and created valuable links to the FREE online courses System Change, Working with Government & #Mindset Shift.
Thank you, and also a big thanks to Compass-Gruppe for hosting us, it was a pleasure!
(pictures by Walter Skokanitsch) 
Now is your turn. – Are you ready to set sail with the upcoming program?⛵
The Ashoka Visionary Program supports executives, current and future entrepreneurs, changemakers from any sector – corporate, public, civil society or foundations. Participants strive for new careers, business and social impact pathways in society.
Let's see if the program is the right place for you to thrive (or for someone you know and care about). Can you answer all of this with YES?
✅ You want to listen to the life stories of Ashoka Fellows and other ground-breaking social entrepreneurs, ask them all your questions and reflect on them for your own journey?
✅ You want to get access to the field of social entrepreneurship, accelerate your changemaking and responsible leadership skills, and/or reflect on your personal changemaking journey for more purpose?
✅ You want to implement learnings into practice by supporting a social entrepreneur or developing your own social enterprise?
✅ You don't want to do it all alone, and instead want to exchange experiences with like-minded leaders from diverse sectors, create collective impact together and join a supportive alumni network to accompany you further?
✅ You can commit to attending 7 practice-based modules, of 15 days in total (Friday-Saturday), between October 2023 and June 2024?
📆 To learn more about the program, you're invited to our upcoming info calls:
16 May, 14:00 – 15:00 (CET)
20 June, 09:00 – 10:00 (CET)
Sign up for your preferred date here.
All info about topics, putting learnings into practice, requirements and more on the website.
Immerse yourself in a world where positive change is possible, and create it yourself.