THE CENTRAL-EASTERN EUROPEAN PROGRAM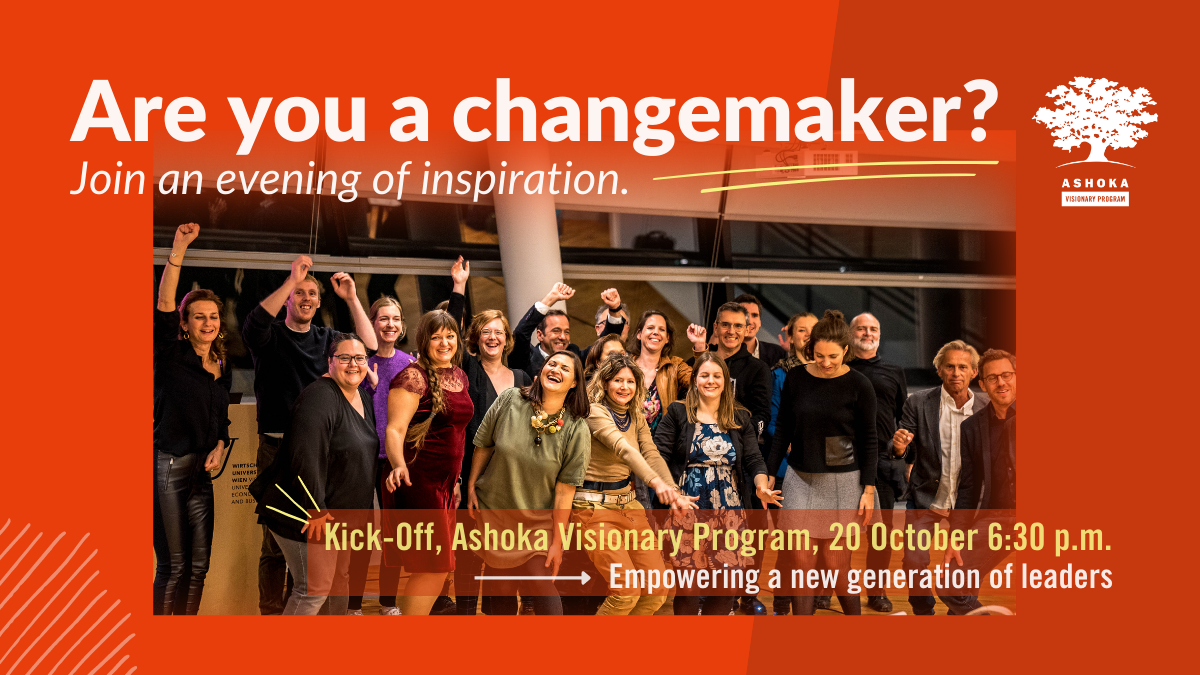 And mark the 20 October in your calenders! Ashoka Austria is kicking off the next edition of its one-of-kind Visionary Program for leading #changemakers at a public event in the heart of Vienna! We invite you to an interactive evening filled with inspiration, joy and a lot of new and old Visionaries, and friends of Ashoka. Also, this is your chance to meet our wonderful new Austrian Ashoka Fellow – a groundbreaking social entrepreneur working on #youthparticipation. 20.10., from 6:30 p.m., doors open at 6:00. Please sign up now!
So, you are
ready to join

the Ashoka Visionary Program?
The Ashoka Visionary Program is the pioneering, part-time leadership program empowering decision makers from all sectors to solve societal problems in an entrepreneurial way, and Central-Eastern Europe is one of its three locations.
We founded the Ashoka Visionary Program in 2015, starting with CEE; 2022-23 will be eight time we offer 30 decision-makers and leading changemakers from across Europe this transformational learning journey.
Modules
Dates of the 7 modules
(Oct 2022 – June 2023)
1
20-22 October 2022
2
 02-03 December 2022
3
27-28 January 2023
4
 02-04 March 2023
5
21-22 April 2023
6
12-13 May 2023
7
23-24 June 2023
The program offers a similar experience across all regions, thus the target group, requirements to join, curriculum and other key infos not specified here remain the same everywhere.
You can find all the info on the:
About the Program Page
Stipends available: The Ashoka Visionary Program is a part-time executive program for decision makers in the private and the public sector
dealing with social innovations as well as social entrepreneurs. The program enables participants to gain the skills needed to
master both entrepreneurial and intrapreneurial challenges and to generate social impact.
Brew yourself a good coffee/tea and apply. Please notice that we process applications on a rolling basis, so we recommend applying early.
Once that is done, we will take a maximum of 2 weeks to review your application and let you know if your profile fits the program.
If it does, we will contact you via mail with an invitation for a personal interview to take place over the course of the following days.
The key selection criteria are high motivation and a successful personal interview.
You have the interview with a member of the Ashoka Visionary Program-team.
2 weeks after the interview latest, we will inform you if it's a match and you have been selected.
Welcome on the journey! We have different options of payment, with the participant fee either to be paid at once or in several instalments.
The program costs 10,000 € (excl. VAT) in CEE, it may vary in other regions. When applying early the special bird offer applies, saving you 1,000€. Stipends are available, please check the point below for more info.
STIPENDS
We offer three different types of stipends (2,500€ for people in transformation, 5,000€ for representatives of NGOs/foundations/public institutions and 7,500€ for social entreprenereurs) to allow those who can't afford the full price to attend the program! The Ashoka Visionary Program team screens all the applications on a rolling basis and informs candidates if they are eligible. Selected Ashoka Fellows and the co-leaders of their social entreprises can participate in the program free-of-charge.
Our partners
in central-eastern europe