Ashoka Visionary Journey: Be inspired by social entrepreneurs from East Africa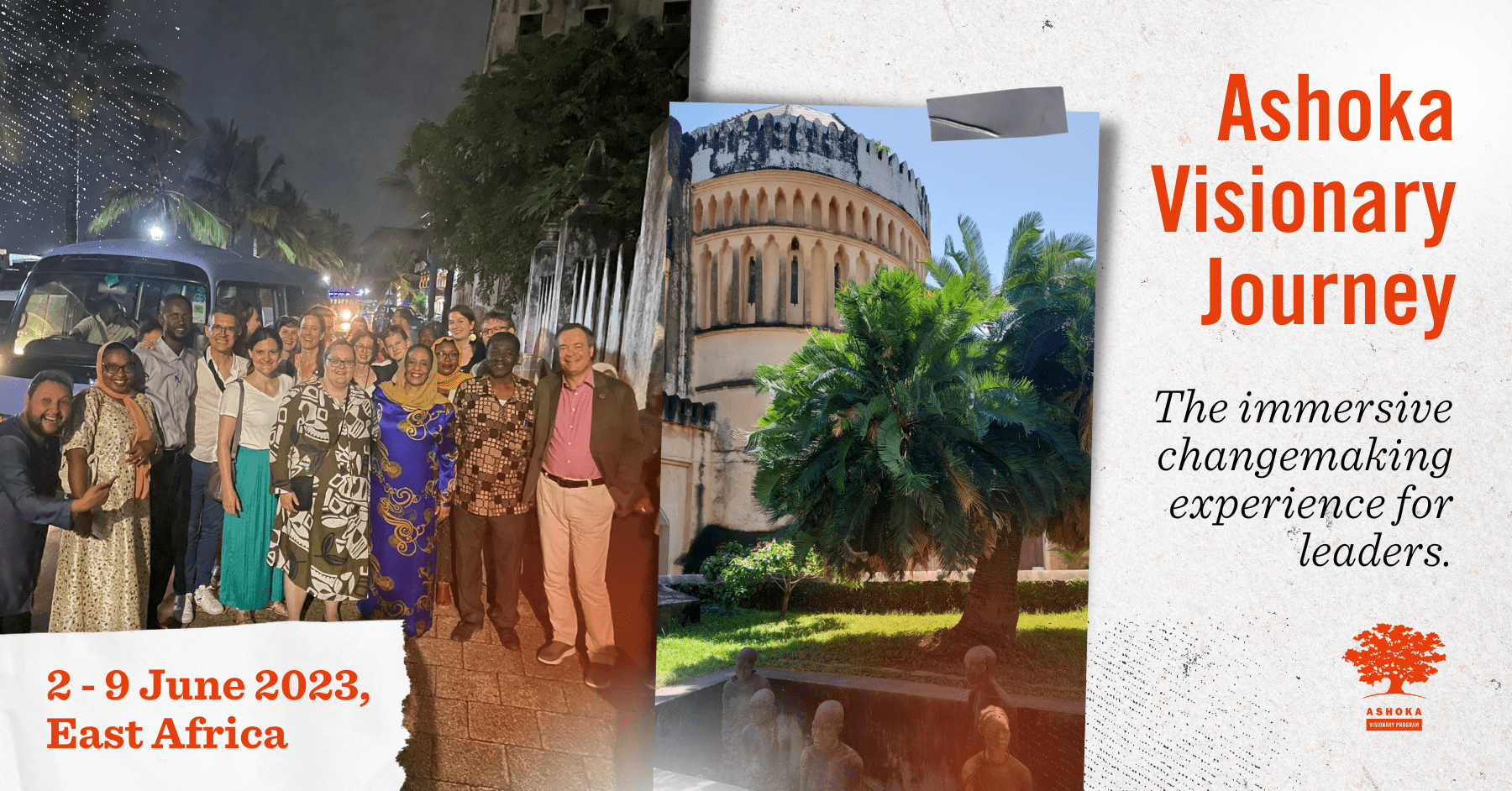 Between Tanzania and Uganda: an immersive changemaking experience to understand social innovation on the ground
Did you know that participants and alumni of the Ashoka Visionary Program travel the world together to witness Ashoka Fellows and groundbreaking social entrepreneurs in action?
An eight-day immersive learning journey for leaders through East Africa, between Uganda and Tanzania, has kicked off – to see how changemakers are solving systemic issues in education, economic empowerment, and the aftermaths of civil war. Under the guidance of our Visionary Program Alumni Abu Musuuza (Uganda), Alex Wostry (Tanzania) and Simon Mtabazi (Tanzania), participants are visiting initiatives from outstanding Ashoka Fellows like Bart Weetjens (Apopo), Clare Wavamunno (Hill Preparatory School) and Joseph Nkandu (NuCafe).
Participants have been invited to be mindful throughout the trip of how they interact with countries and communities whose lived reality is very different from theirs and show up, embarking on a journey of listening and learning that can unearth new perspectives. Giving back. Examining the present effects of colonial pasts, learning more about connections.
Be inspired by these Ashoka Fellows part of the journey…
🦸🏻‍♂️ BART WETJEENS, APOPO
Bart is the founder of apopo – an organization that trains the famous HeroRats to detect thousands of buried landmines in Africa, Asia, and South America, freeing up farming land and living space at a fraction of the cost and time it takes with traditional detection equipment. Animals also sniff out illnesses like tuberculosis.
You can read about Bart here; And watch his talk briefly here.
🦸🏻‍♂️ SOLOMON KING, FUNDI BOTS
Solomon who uses robotics to get children interested in science. His organization Fundi Bots has taught thousands of children in disadvantaged schools how to build robots. Solomon will talk about his work and will take us through a 2-hour-session where we will build robots and experience what children do and how they learn.
You can read about Solomon here; And watch his talk briefly here.
🦸🏻‍♂️ JOSEPH NKANDU, NUCAFE
Joseph is combating the poverty cycle for Ugandan coffee farmers and increasing the overall return for one of the country's primary exports. He established a transition to the "farmer ownership model" which removes middlemen and increases the value farmers' retain. NuCafe has organized millions of coffee farmers in Uganda to earn more from the global coffee value chain. 
You can read about Joseph here; And watch his talk briefly here.
🦸🏻‍♂️ GLADYS KALEMA, CONSERVATION THROUGH PUBLIC HEALTH
Gladys is a veterinary doctor that discovered the link between wildlife and human health. She has spent much of her adult life protecting the endangered mountain gorillas by changing public health practices of communities living around wildlife protected areas.
You can read about Gladys here; And watch her talk briefly here.
..and these other initiatives of social entrepreneurs visited!
📍 SAT/Sustainable Agriculture Tanzania founded by Visionary Program Alumnus Alex Wostry, which seeds and supports innovations in agriculture
📍 MOTIV/Innovation Village, a place to learn about the innovation ecosystem in Uganda and experience early-stage innovators and innovations
📍 Zayedesa, the Zanzibar based implementation partner of Ashoka Fellow Edit Schlaffer's Women without Borders, tackling radicalization through empowering mothers and communities.
📍 Sahara Ventures, an example for the vibrant startup ecosystem in Tanzania
📍 Tai Tanzania – Storytelling fo Social Change, a youth-led NGO inspiring social behavioural change by positively influencing communities through the use of 3D Animations, Radio Dramas & Comics to deliver crucial messages to the community, especially to adolescents in Tanzania.
📍 SELFINA, a micro-leasing institution that has supported tens of thousands of women-owned small businesses.
Further insights 
Now is your turn. – Are you ready to set sail with the upcoming program?⛵
The Ashoka Visionary Program supports executives, current and future entrepreneurs, changemakers from any sector – corporate, public, civil society or foundations. Participants strive for new careers, business and social impact pathways in society.
Let's see if the program is the right place for you to thrive (or for someone you know and care about). Can you answer all of this with YES?
✅ You want to listen to the life stories of Ashoka Fellows and other ground-breaking social entrepreneurs, ask them all your questions and reflect on them for your own journey?
✅ You want to get access to the field of social entrepreneurship, accelerate your changemaking and responsible leadership skills, and/or reflect on your personal changemaking journey for more purpose?
✅ You want to implement learnings into practice by supporting a social entrepreneur or developing your own social enterprise?
✅ You don't want to do it all alone, and instead want to exchange experiences with like-minded leaders from diverse sectors, create collective impact together and join a supportive alumni network to accompany you further?
✅ You can commit to attending 7 practice-based modules, of 15 days in total (Friday-Saturday), between October 2023 and June 2024?
📆 To learn more about the program, you're invited to our last upcoming info call:
20 June, 09:00 – 10:00 (CET)
Sign up here.
All info about topics, putting learnings into practice, requirements and more on the website.
Immerse yourself in a world where positive change is possible, and create it yourself.