Throwback to one more Ashoka Visionary Program launch: two new Fellows, 12+ countries and a visionary community united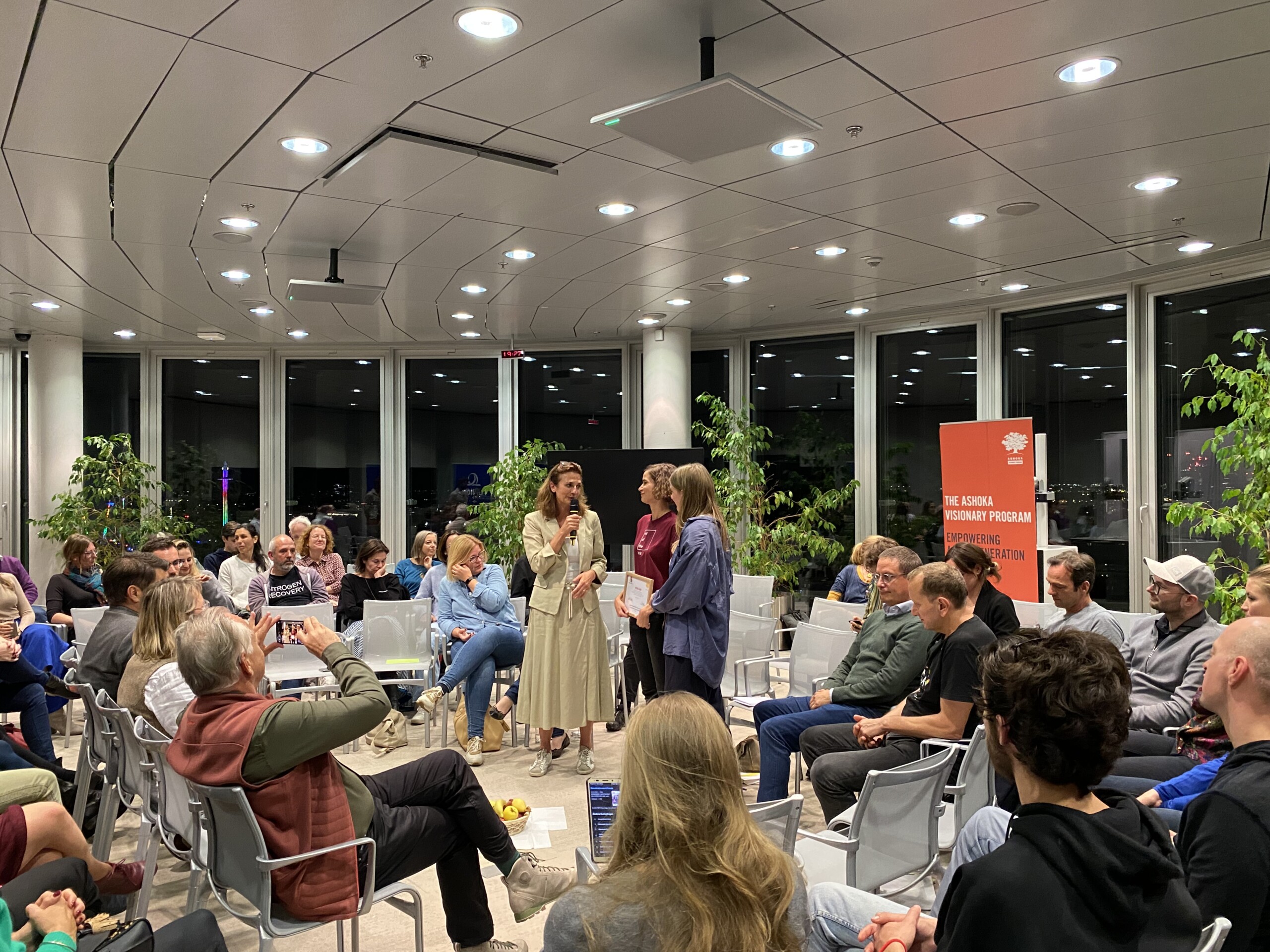 Can you remember your first day of the Visionary Program, if you joined us? All the feelings you had. Or can you image joining the pioneering part-time executive leadership program to combine entrepreneurial success with social impact? 
A similar moment just took place for the 8th cohort of Visionaries in Central and Eastern Europe – composed of participants from Jordan, Kenya, Iran, Spain, Romania, Sweden, Russia, Czech Republic, Norway, Slovakia, Denmark and Austria. With a public event kicking-off their Changemaker Journey in the heart of Vienna on the 20th of October, a journey that would last 7 modules and 9 months. Kick-Offs of the Visionary Program have also always been a place to celebrate this special moment of bringing together alumni, new visionaries and the wider community. Allowing connection to unfold – in person.
The event offered a special part dedicated to alumni, with a regular's table and an empowering self-defense workshop (want to know more about the experience & benefits of becoming a participant and alumni? Read on here about our network.). And continued with an evening with the presentation of two new Fellows, from Austria and Slovakia, insights into Ashoka and room for networking.
The three inspring changemakers and social entrepreneurs of the evening 
Rebekka Dober founded and leads the social venture "YEP – Voice of Youth" (German: Stimme der Jugend), which ensures that young people between the ages of 14 and 20 are involved in decisions that affect their future. True to the motto "if it's about them, then don't do it without them". YEP stands for Youth, Empowerment and Participation. She grew up in a small village in Lower Austria and started campaigning for more justice in society already while at school. With YEP she implements youth participation with a methodical approach, changes mindsets of decision makers towards the real meaning of participation and empowers youth to better understand democratic processes as well as their own political opinions and needs. The goal: to give young people the chance to experience self-efficacy in society. Rebekka is the new Ashoka Austria Fellow, officially since October 2022.
Pavel Hrica founded and has been leading the organisation "Cesta von" (Slovak: Way Out), which works constantly to support people living in poverty on their way to a job and a dignified life. In a country with extreme generational poverty, which hits communities in Roma settlements particularly hard. A long time ago, Pavel slept in a sleeping bag under a tent or a starry sky, and a few times in a hut in a Roma settlement. He then wrote a 400-page handbook for scout leaders to help Roma children integrate into society. He also helped launch employee volunteering in Slovakia, and organized the first year of the Our Town event, which attracts 10,000 corporate volunteers each year. He spoke at the most prestigious fundraising conference in Amsterdam. He started running after he was 40 and has run seven half marathons to raise funds for Roma children. He worked with government Value For Money analysts from four departments. Pavel became a new Fellow in Ashoka Slovakia in 2022.
Linda Štucbartová from Prague, founder of Diversio and alumna of the 4th Visionary Program cohort in CEE, conducted the self defence workshop. She is a business consultant who founded her own social enterprise, promoting eco-systems for innovations by bridging business, the academic world and start-ups internationally. She is a mentor for leaders, a renowned speaker (at TEDx and various podcasts.), and a connector specialized on impact transfer with Israel. One of her new projects is training women, children and people with disabilities through Empowerment Self Defense, a training method that helps to build resilience.
Powerful messages that stayed with us
"Dignity is the first step. If you don't have it, you can't do anything else." – Pavel Hrica in his presentation of the evening. He talked with dedication about how only dignity, respect and empowerment lead to success – in his case, through seeing the potential of women in Roma communities and training a strictly selected group of them to become agents of change. Cause the first 1000 days of life are a window of opportunity, it is the span of time in which children need to be given the best possible conditions to grow, which will then impact the rest of their lives. "Roma people are great. They're like us. They just live in different conditions." And so at 40 years, Pavel realised he had 20 more years to do something important, not needing a big salary – he had everything. And so he founded "Cesta von". "I see miracles every year" – the story of change continues on.
What was the moment in which you took action to do your venture, in which you stepped into your power? 
Or what would it require for you to do so?
What now? How to join the community
Do you want to up your changemaker skills, entrepreneurial success & social impact all through one program? Maybe even change career? With participants from the corporate world, the public sector, and civil society as well as foundations? Applications for the next cohort will open soon – check the regional program website at the end of January '23. In the meantime, you can learn more about the network, modules and field opportunities of the program here.