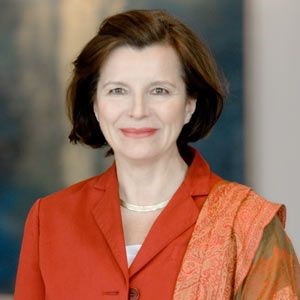 Edit Schlaffer
Ashoka Fellow, Founder and Executive Director of Women without Borders
Categories: Alumni, Ashoka Fellows, Experts+Speakers, Social Entrepreneurs
***Alumna of the Ashoka Visionary Program (CEE) 2016/2017***
Edit Schlaffer develops the powerful potential of mothers in preventing radicalization within their families and in becoming ambassadors for de-radicalization in their communities. 
Frontline communities and families in extremism hotspots are often confronted with an environment characterized by discrimination, socio-economic inequality and violence. In this situation, many adolescents become vulnerable to radicalization and extremist recruitment. Understanding the strong connection between environmental factors, adolescent development and radicalization, Edit Schlaffer developed the MotherSchool model. Through trusted community leaders and NGOs, she approaches mothers who are concerned about violent extremism with regard to the safety of their children and their community. MotherSchools create a transformational experience for mothers by providing a save space where self-awareness, self-expression and self-empowerment are appreciated and encouraged. In a playful and highly interactive way, mothers learn about parenting, adolescent development and early warning signals of radicalization. This combination of personal transformation and increased capacity for action enables mothers to play a more influential and responsible role in their families, to change the communication with their children, and to become ambassadors for de-radicalization in their communities.
Edit Schlaffer perceives the involvement of mothers in countering violent extremism as the main building block of a new international security system rooted in informed, active and resilient families and communities instead of military and police interventions. She advocates for alliances between institutional stakeholders and frontline communities to create more resilience against violent extremism and to avoid further discrimination, divide and distrust. She addresses institutional stakeholders through high profile conferences, lectures and media work, and involves them in the implementation of MotherSchools all around the world. On the local level, Edit Schlaffer engages and trains NGOs as operational partners for the implementation of MotherSchools. She involves local institutional partners such as schools, social services and police to sustain the MotherSchools and to promote a broad local alliance against violent extremism.
Mother Schools have been successfully implemented in Africa, Asia and Europe and proved to be effective under different cultural and socio-economic conditions. MotherSchools started in 2013 and involved 1500 mothers and 225 trainers in 9 different countries so far, with new runs being planned in 8 further countries. The model is in high demand as many governments are seeking for new ways to prevent radicalization in hotspot areas. This demand opens a new path for scaling. Apart from former participants, NGOs and activists replicating the model, Edit Schlaffer aims to institutionalize the MotherSchools in cooperation with public partners such as governments, local administrations, police and social services.
Edit was elected as an Ashoka Fellow from Austria in 2016. Learn more about her on her Fellow profile.
——————
Please note that this description dates from the start of the program, if not stated differently. Want to see your bio updated with your new social impact achievements?